Patent Filing Services in Slovenia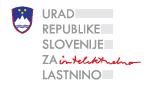 Country:- Slovenia | Capital :-Ljubljana
Slovenian Intellectual Property Office (SIPO) Ministry of Economic Development and Technology Kotnikova 6 1000 Ljubljana
Slovenian Intellectual Property Office (SIPO) Ministry of Economic Development and Technology Kotnikova 6 1000 Ljubljana
Fact Sheet - PCT National Phase Slovenia
Filing Extension Available
Slovenian Intellectual Property Office (SIPO) Ministry of Economic Development and Technology Kotnikova 6 1000 Ljubljana
Slovenian Intellectual Property Office (SIPO) Ministry of Economic Development and Technology Kotnikova 6 1000 Ljubljana
The Invention Patent, The Utility Model Patent and The Industrial Design Patent.
Fact Sheet - PCT National Phase Slovenia
Filing Extension Available
POA (Original/Certified Copy )
Fees for Patent Activities in Slovenia
Filing fee (including maintenance of the patent for the first 3 years)
Correction of priority claim
Restoration of priority right
Issuance of declaratory decision
Acquisition of data or opinion for the issuance of declaratory decision
Publication of translation
Any subsequent publication
Conversion of European patent application into national
* All the fees mentioned here is in EURO.
* These fees are subject to change as per the discretion of the patent offices. Get in touch with us to know the exact fee.
As an independent inventor, figuring out how to address national phase application on time seemed like a daunting task. I researched at least 10 services and felt a good vibe from the PTE website. I have found them prompt, communicative, knowledgeable and concerned about my the future of my invention. On top of that, all at a fair price. If you are unsure about choosing this type of service, I want to let you know that PTE worked for me and if need be, I will contact them in the future.
We work with TPFC on prosecution of Indian patent applications, patent searches and further areas. We appreciate the excellent quality and reliability of TPFC. Also urgent matters are handled to our greatest satisfaction.
I have worked with TPFC on various Trademark search projects and I was much pleased with their excellent work quality, prompt response as well as their competitive pricing. The team was always able to produce quality search report that represents good value for my clients. I am glad to have found a solid TPFC that I can rely on and also, recommend them to others.
I have worked with TPFC for a number of years and have found them reliable. The team is responsive and I would recommend TPFC to others. Hope to growing the relationship further.
I have retained TPFC on several projects and referred several of our clients to them. They are responsive and responsible. TPFC has always come through for me and my clients with timely, effective, and on-point search results.
Q1. Term required for filing a patent application in Slovenia?
A 12-month term is given to the applicant for filing patent applications claiming conventional priority in Slovenia. This term may be restored under due care criterion by paying the additional fees for restoration.
Q2. What is the Duration of Patents in Slovenia?
The protection conferred by the Slovenian patent is limited to 20 years as from the date of filing the application.
Q3. What are the Filing requirements in Slovenia?
Minimum of filing documents required to obtain a filing date in Slovenia is complete patent specification with claims and drawings (if any) and the details of the applicant and the inventor.
Q4. How to examine a Slovenia patent application?
Substantive examination is not required. The Slovenian patent applications are examined according to formal requirements.