To protect your invention via a patent, you should be familiar with the patent filing process. Filing a patent with the United States Patent & Trademark Office (USPTO) is the first and most important step towards protecting your invention. Hence, it's essential to know the type of patent you should file and the requirements of each patent application. You need to be very prudent during the entire patent filing process, especially while drafting the application. Thus, this ensures that you have a seamless filing and a relatively straightforward examination.
Before anything else, you need to ensure that your invention is novel, functional, and non-obvious. So, you can do that through a patentability search. Once you are certain that your invention is patentable, you can go ahead with the patent filing process.
Patent Filing Process: An Overview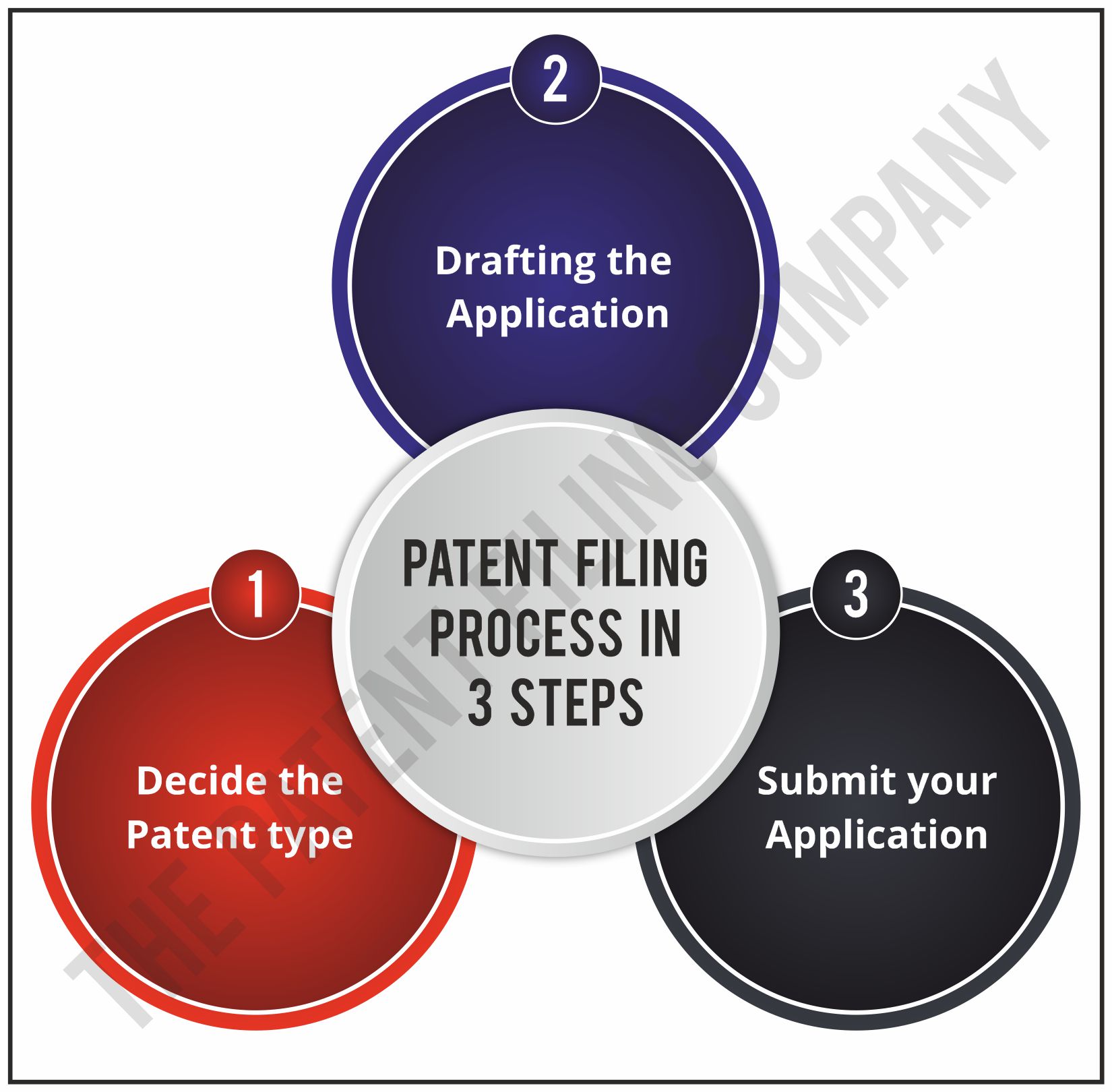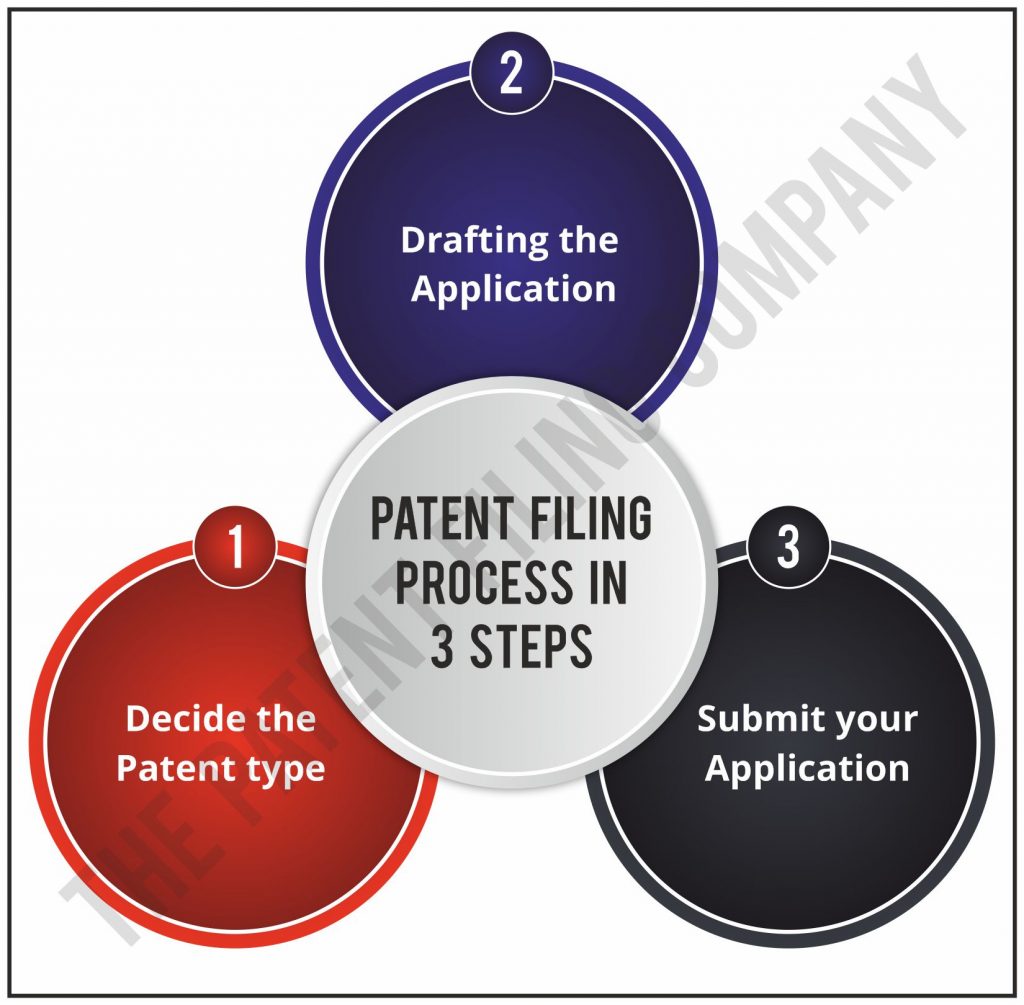 Decide the patent type
Before you start drafting your application, you need to identify the type of patent you need. The USPTO offers 3 types of patents:
Utility patent:  It protects how a product or process functions. Also, utility patents protect functional and new inventions or systems.
Design patent: These cover the way a manufactured product looks but it isn't concerned with its usefulness or function.
Plant patent: A plant patent is useful if you have created a new species of plant. Moreover, it prevents other companies from breeding it.
Drafting the Application
So, after you are certain about the type of patent, you can move on to the actual patent filing process. It is important to remember that the USPTO follows a "First to file" regime.
Here is a list of the type of applications.
Provisional Patent Application
A provisional application is a quick and inexpensive way to establish an early effective filing date for your invention. You can claim it in a later-filed non-provisional application.  Moreover, you do not have to provide claims, oath or declaration, and public disclosure for a provisional application. However, it is advisable that you disclose the invention as completely as possible. Additionally, you get a 12 month pendency period in which you must file the non-provisional application.
Nonprovisional (utility) Patent Application
A nonprovisional utility patent application is very elaborate and must include a specification. It needs to have the following.
Utility Patent Application Transmittal Form or Transmittal Letter

Background of the invention (for disclosure of material to patentability)

A description and a claim or claims

Drawings, nucleotide, and amino acid sequence listing, large tables or computer listings when necessary

The prescribed filing, search, and examination fees
As mentioned before, you are can convert a provisional application into a non-provisional one. You have to mention the specific reference to the provisional application in an application datasheet.
Related Article: How to Draft an Accurate Patent Claim
Design Patent Application
The design application has very similar requirements as the non-provisional application with a few additions, such as:
A description of figures for the drawing
Also, you cannot file a provisional application for a design patent.
Plant Patent Application
A plant patent application has the same requirements as a nonprovisional patent application with a few exceptions. In addition, you need to ensure that your specification must contain the following:
A complete botanical description of the plant
The characteristics which distinguish your plant over known, related plants
International Patent Application under the Patent Cooperation Treaty (PCT)
The PCT is an international treaty. It's a system through which you can seek patents in multiple countries around the world on the basis of one international patent application. For more information on filing a patent under PCT, visit the PCT guide on the WIPO website.
Submit your application
The next step in the patent filing process is the submission of your application draft.
Online :-Whatever patent application you have to file, use EFS-Web. It is the USPTO's electronic filing system for patent applications. It is also used for any official correspondence with the USPTO via the Internet.
Offline:- You can send the application via delivery by U.S. mail, or hand delivery to the Office in Alexandria, Virginia. But the offline method charges you a lot of extra money, so it is preferable to use the online method.
Why choose us?
Before you proceed with the patent filing process, you need to decide if you would need the assistance of a patent professional. Be mindful of the steps and deadlines involved.  You should consider engaging a patent professional / firm who has years of experience in the patent field. We offer complete support for provisional patent application filing, design & utility patent Applications, patentability search reports, nonprovisional patent application filing, patent drawings, and much more. For more information, visit our service page.
Other Related Articles
All you need to know on Design Patent Drawings
How to Invest less in Patent Drawings?