The United States Patent and Trademark Office (USPTO) offers a Web-based patent application and document submission system called EFS-Web. Anyone with a Web-enabled computer can use EFS-Web to file patent applications and documents without having to download specific software or change their document preparation tools and methods.
Also Read: How to File a Patent?
Product Overview
EFS-Web employs a variety of standard Web-based presentations. It allows you to submit patent application documents in PDF format to the USPTO in the quickest time possible with its assistance. You choose the tool, procedure, and workflow with which you author your documents, convert them to standard PDF files, and then submit them to the USPTO's secure servers while creating PDF documents. EFS-Web also accepts PCT-EASY.ZIP compressed files for International PCT applications, as well as ASCII text files (.TXT) for bio-sequence listings, computer program descriptions, mega tables, and other documents.
Also Read: Patent Filing Steps: Know How to Do it
Benefits of Using Electronic Filing System EFS-Web
Anyone who needs to submit patent applications or follow-up documentation can profit from EFS-Web in a number of ways.
This system is extremely safe.
Filings done with EFS-Web are legally protected in the same way as paper-based filings are. You'll get an electronic receipt and confirmation, as well as the option to print the receipt for your records, confirming the date of your purchase.
It is secure to use.
EFS-Web submissions are secured using cutting-edge security techniques such as Transport Layer Security (TLS) and, if you register as a registered filer, Digital Certificates, one of the most secure methods currently available.
It is lightning fast.
You may submit a patent application, pay for it, and receive an acknowledgment receipt in only a few minutes and using a few online screens.
This system is simple to use.
By uploading PDF files and completing out a few easy web screens, even the largest and most complex patent applications can be submitted.
EFS-Web is a forgiving platform.
Moreover, EFS-Web verifies that the PDF files and data you're attempting to upload are acceptable before submitting them. Further, EFS-Web will tell you why the document can't be submitted if there's an issue, allowing you to take corrective action swiftly.
It is a flexible and versatile online filing system.
You don't have to make any changes to the tools, processes, or workflows you use to create patent applications and documents if you use EFS-Web. You do not need to learn how to use new authoring tools to file using EFS-Web.
Also Read: Patent Application Filing: The Right Way to Proceed
How EFS-Web Online Filing System Works?
EFS-Web is a hosted patent application and document submission service that anybody with a computer and an Internet connection can use. EFS-Web is hosted by the USPTO on their secure servers.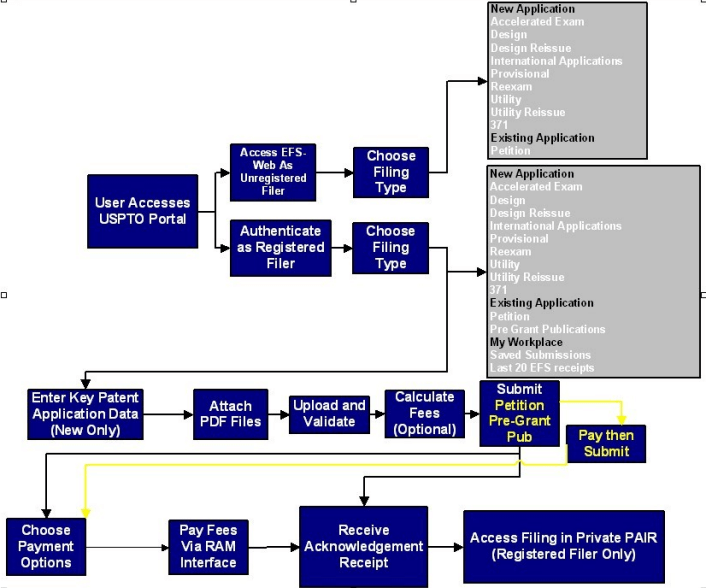 Thus, this system allows anybody, even those without a USPTO customer number, to file patent applications and documents by browsing through a few simple interfaces.
Also Read: Patent Status: How to Know
EFS-Web Online Filing System: Features
Registered and Unregistered Filers
While anybody can submit patent applications and documents using EFS-Web, filers can gain more benefits from the system by registering, such as the option to file follow-up papers and save the package before submitting it. It's simple to register by sending paper forms to the USPTO's Patent Electronic Business Center (EBC), which will subsequently provide a Digital Certificate that verifies your identity.
Web Access
To file electronically, all you need is a computer, a Web browser, and an Internet connection. Click on the "File Online" link on the USPTO homepage at http://www.uspto.gov/ to access EFS-Web. After selecting Launch EFS-Web as a Registered or Unregistered e-Filer, you will be requested to submit your documents through a series of windows.
Filing Accepted
At the US Receiving Office, EFS-Web receives new:
Utility (reissues, requests for reexaminations);
Provisional;
Design;
National Stage Applications under 35 USC 371; and
PCT International Applications.
Further, registered e-filers can also submit Pre-Grant Publication papers and follow-up documents for previously filed applications.
Built-in File Validation
EFS-Web verifies documents automatically and tells you whether your application fits USPTO criteria before you submit it. If it fails to meet these requirements, you will be notified so that you can remedy the problem before final submission.
Online Payment of Fees
You can pay your filing fees online using EFS-Web. You have the choice of paying with a credit card, a deposit account, or an electronic funds transfer.
Acceptable File Formats
Standard PDF documents, text files (for specific application elements like sequence listings and computer program listings), and PCT-EASY ZIP files up to 25 gigabytes are all accepted by EFS-Web. Text files containing sequence listings can be up to 100 gigabytes in size. When properly set up, most versions of PDF writer software operate with EFS-Web.
Valid Electronic Receipts
EFS-Web generates an Acknowledgement Receipt with the following information:
Time and date stamp;
Application number; and
Confirmation number.
Further, the security and authority of the postcard receipt offered with paper applications are carried over to this electronic receipt.
Private PAIR Integration
The Private Patent Application Information Retrieval (PAIR) system may access EFS-Web submissions. Your patent applications and documentation are accessible to view in Private PAIR shortly after filing if you are a registered filer. With a single login, you can access both EFS-Web and Private PAIR.
Auto-process E-Petitions
Allows e-Filers to file e-Petitions that are automatically processed and approved if the petition criteria are met.
Security
Whether a registered or unregistered filer, EFS-Web forms a secure hosted application. Your documents will undergo transmission via the Transport Layer Security (TLS) or Secure Socket Layer (SSL) protocol if you file as an unregistered filer. If you want to register, your filings remain handled through a Public Key Infrastructure system that ensures authentication and encryption.
Also Read: Patent Filing Deadlines: Know When to Take Action
Patent Electronic Business Center
The Patent Electronic Business Center (EBC) assists customers with a variety of Patent Electronic Systems, including filing electronic patent application submissions through the Electronic Filing System (EFS-Web), reviewing patent applications in Public and Private PAIR, and assisting customers with searching the Patent and Application Full-Text Image Databases. The Electronic Business Center serves the IP community, which provides extended daytime and after-hours technical support on a wide range of support concerns connected to these systems.
How Does it Help?
External users of the USPTO's Patent Electronic Systems, which include EFS-WEB, Public and Private PAIR, and Patent Center, can get in-depth technical support from the EBC. They provide one-on-one assistance, online electronic filing information, instructional material, and support, and are ready to help consumers throughout normal business hours. The EBC also acts as a point of contact for clients, guiding them to other USPTO entities that can help them with their specific business concerns and needs.
Moreover, if you're having trouble with a system on the website, if you're having trouble after regular USPTO business hours, or if you're not sure what's wrong, their team of highly trained customer service representatives can assist you, direct you to the appropriate call center, or escalate your issue to a specialized group as needed.
Major Areas of Support
Helps you to submit your patent application Using EFS-Web;
Also, Uses Public and Private PAIR to view application information;
Using AppFT and PatFT to find patents;
Customer Number Issues and Assistance with the Patent Electronic System Verification Form;
Web Browser Issues with USPTO.gov Account Authentication for Private PAIR and EFS-WEB;
Errors or technical issues with your patent application;
Inquiries & Problems with PDX/DAS Registration;
Biotech Tools such as PatentIn and Checker Have Technical Issues.
Also Read: Patent Filing Service: Benefits to Reap
Why Choose The Patent Filing Company?
If you want to file a patent, TPFC can assist you with that. The Patent Filing Company (TPFC) is a select collection of world-class technology companies with a thorough understanding of international patent regulations. Also, our team of professionals will assist you with the patent application process. Moreover, TPFC represents over 300 professionals which serve over 45 nations. Additionally, our professionals apply their knowledge to provide world-class advice and IP protection to our clients. TPFC not only ensures that you get the best and most comprehensive services, but also that you get the best price. Our experts will make the process of filing a patent application easier for you. Visit The Patent Filing Company to learn more about our services.
Other Related Articles
What are the Benefits of Patent Monitoring?
Utility Patent Drawing Requirements are Necessary or Not?